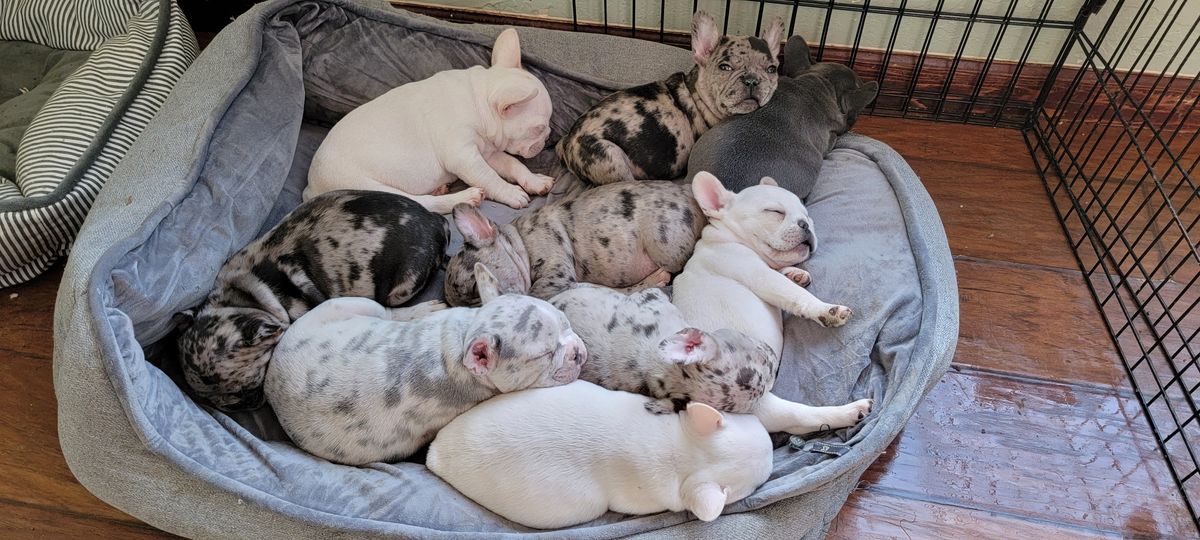 Frenchies + French Bulldogs
Why we love French Bulldogs. They are so loving, cuddly, sweet, their bat ears and the pig noises. They are smart, comical, easy to travel with because of their small compact size. They can cheer you up on the darkest of days. They are athletic, love people so much and want to be with you. They love treats. Very food motivated. One of my favorite childhood memories was puppies. We had several litters growing up of German Shepherds. Our love affair with Frenchies started with Liz in 2014. We had to put our 12 year old Boxer down Melanie and I wanted a smaller dog. So after talking to my Veterinarian and alot of research I fell in love with French Bulldogs. Liz went to work with me. She slept in my bed on my pillows and under my covers. She raced around always happy and playful. My children loved her and she loved them just as much. We decided to purchase another Frenchie and could not find any breeders near Spirit Lake, Idaho. So after more research and talking with my Veterinarian we purchased Magnolia and Gidget in 2015 and then searched for the perfect male. It took us 3 tries until we found our perfect male Riddick. We have been breeding since 2018. We have a farm located on 21 acres in Spirit Lake, Idaho. We raise the puppies in our home with cats, dogs and our children. We consider them to be part of our family. We are not a kennel! All of our dogs & puppies are DNA health tested thru Embark. Where they are tested for over 240 genetic conditions. Questions we would love to hear from you.
Life At Magnum French Bulldogs
Our puppies and dogs are raised and live in our home. They enjoy sleeping on our couch or our beds. They have lots of room to run around as well.