Welcome to Magnum French Bulldogs
We raise healthy, well rounded French Bulldog puppies in Our Home. We are not a kennel. Our puppies are sold DNA health tested and come in a wide range of colors standard to exotic. We begin calling the puppy by the name you choose. We perform Early Neurological Stimulation on our puppies which has proven to create more stable temperaments as well as a well adjusted puppy. We start potty training at 3 weeks old and provide the puppies with various toys and surfaces to walk and play on. The puppies are exposed to dogs, pigs, cats, & Children. The puppies are with mom from the day they are born to the day they leave. Their mom teaches them manners, confidence and boundaries. We send weekly updates of videos and pictures. We would love to hear from you please fill out the contact form below.
Paisley & Harry puppies born 2/3/2023. We where blessed with 6 males and 3 females. The puppies are Now ready for their new homes. Your puppy comes home with the following.
Vet Exam

First Vaccination by a Vet

Micro chipped

Embark DNA Health Testing done on your puppy

Lifetime Breeder Support

Written Health Guarantee & Contract

Paisley is a lilac red fawn French Bulldog
Harry is a Lilac merle French Bulldog
The Puppies can leave for their new Homes at 9/10 weeks of age

The puppies are with mom from the day they are born to the day they leave. Their mom teaches them manners, confidence and boundaries.
Dumpling is pictured above. Check out our past puppy videos and pictures. One of my favorite childhood memories was puppies. We had several litters growing up. Our love affair with Frenchies started with Liz. She was sweet, energetic, loving and very entertaining. One of the things I love about this breed is that they love the whole family and not just one person. They love to cuddle. So much personality 🌞 and very entertaining. Frenchies love car rides, baths & walks. Dressing them up is easy and fun. French Bulldogs love people so they are great if you take them to work or to Grandma's for Thanksgiving. We have a farm located on 20 acres in Spirit Lake, Idaho.
The American Kennel Club describes French Bulldogs as "an active, intelligent, muscular dog, with a smooth coat, compact medium build,they are expressive, alert, and curious. They are the #1 most popular AKC ranking dog as of 2022.
What Is A French Bulldog? The French Bulldog is a small breed of domestic dog. "Frenchies" were the result in the 1800s of a cross between bulldog ancestors imported from England and local ratters in Paris. In 2014, they were the fourth most popular registered dog in the United Kingdom and in the U.S. the ninth most popular AKC registered dog breed. The Source Wikipedia
Where Did This Breed Originate From? French Bulldogs originated from England, France. The first French Bulldogs were brought to America in 1885 by wealthy Society ladies.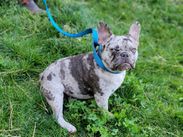 Harry a Magnum French Bulldog Parent
Our puppies and adult French Bulldogs are raised in our home with cats, and our children. We consider them to be family so we play with the puppies and take them on a few car rides as well. They enjoy playing outdoors when the weather is warm. We are not a kennel. Our goal is to breed Quality, Beautiful, well socialized puppies. Each Puppy is Sold DNA health Tested thru Embark. Embark test for over 197 different diseases. All of Our French Bulldogs have been tested as well as our puppies.
Mans best friend truly is a French Bulldog. Cuddled up next to you on your bed under the covers snoring softly while hogging your pillows. Copiloting around town with you drinking doggy Cappuccino.🐶 Have questions we would love to hear from you.
Every day is an adventure with frenchies
Want to be on our waiting list? Puppies due 9/21/ 2023.You can also contact us on the form below.