Welcome to Magnum French Bulldogs
Visit the past puppy page for lots more pictures.
Heneker our blue/lilac stud.
Nellie a past puppy of Magnolia.
Things to consider when purchasing a French Bulldog. Do you have time to spend with your new family pet? They love people and affection. They were bred to be entertaining lap dogs. If ignored, they can become destructive. They love to play with toys and chew on bones.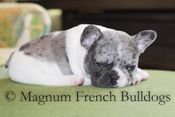 Riddick & Nellie's puppies
Want to be on our waiting list? Visit Our Parent page for more pics. You can also contact us on the form below.