Welcome to Magnum French Bulldogs
Check out the Available puppies on the puppy page. 🐶
Nermal is pictured above.
Check out Our Parents Page.
Nellie a past puppy of Magnolia.
Things to consider when purchasing a French Bulldog. Do you have time to spend with your new family pet? They love people and affection. They were bred to be entertaining lap dogs. 💕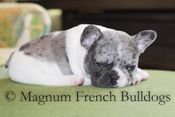 Available Male & his mom Gigi
Visit Our puppy page for Available Puppies pictures & lots more information. You can also contact us on the form below.